What and Why Do You Read?
Learn what fuels our readers' eternal thirst for books, or share the story of your own love affair with books by sending an email with "What and Why I Read" in the subject line to: red.wheelbarrow@wanadoo.fr, or mail your response to: The Red Wheelbarrow, 22, rue St Paul, 75004 Paris.
---
from Louis, Taiwan (and a Paris visitor in February!)
Reading is the habit that I picked up when I became an university student four years ago. It reminds me of how beautiful the world out there is, instead of merely gossip, politics, and superficial glamour. By going through words, I feel enlightened. What's the use of life without books? I used to ask myself. Reading could lead me to the royal road of meaning and understanding. I set up dialogues with authors everyday. I enjoy every tiny moment I share with them on the metro to school or on a casual sunday afternoon. I withdraw into my room and pick up one book to read whenever I feel like it. I'm a slow reader, absolutely, but I never quit a book. Literature reflects how we used to live, the life we live right now, and offers a clairvoyant perspective of the future. Literature is a memory keeper and a prophet, sophisticated and wise. My reading list recently is quite long. I read from the classic "The Color Purple," "Mrs. Dalloway" and "The Memory Keeper's Daughter" to "The Year of Magical Thinking." It may take time to finish all of them, but I just love it. Besides that, I want to know more of what Julia Kristeva said in her books. Literary theories sometimes present critical points of views of how we perceive the world, which is definitely thought-provoking and glittering.
---
from Louise, Normandy
I read to escape the realities that beginning a new life as an English person within France brings. I read to relax after a wonderful but tiring day with my children. I read to learn and experience; but perhaps most rewarding of all I read on a daily basis to my children. Watching their tiny faces as a story unfolds and they too are carried away from reality and into their imaginations is a wonderful experience.
Therefore my reading material is wide - from Dickens to Stephen Clarke, from Tolstoy to Thomas the Tank Engine.
Each book is a joy,an adventure - never knowing what is going to happen until it unfolds - it is something over which you have no control, except when and where you are when you choose to continue with the experience that reading brings.
What a wonderful addiction!
---
from Sophie, Paris
Hard question and at the same time so simple.
Reading has always been a tradition in my family, so I was hooked as a kid. The trips to the library were ritual, and I loved them. And even through teen years when you are supposed to reject every tradition, I still loved reading.
But then now as a grown-up, I wonder why I read so much, and I guess there are a few reasons. Yes I read because I love learning new things, and books are a way for that, but I read too to escape reality. Because life is hard, tough, and sometimes it is much better to spend a day reading the story of somebody else than confront yours. Sad, I know, but that's my way of dealing with life.
And when I see a bookstore I am drawn to it, I am like a kid in a candy store. I look, look, and escape as fast as I can, so I am not going to be tempted. I feel sometimes like a drug addict trying to battle his/her addiction. But it feels good to see so many opportunies to learn, travel, or be somebody else for a few hours of time.
Everywhere I go, I take a book (or a few). That's my security blanket. If any (bad situation) arrives, I can confront it as long as i have a book. If I am stuck and need to wait, I have a book. If am bored at a dinner, I know i have my book, and i know I could (theorically) just read instead of being bored (though I have never the guts to do it yet). Books are my stick to go on in life.
Books are just not books, they are moments of hope and relief as well as music and movies.
---
from Paulette, Paris
I read to become intoxicated! I sit in my chair in the sun and I travel, I am pulled in and I become drunk. I enjoy reading all sorts of books from Tolstoy, Steinbeck to Guy de Maupassant. I absolutely adore reading de Maupassant. I was excited reading Alan Greenspan's Age of Turbulence. I felt betrayed reading Bill Clinton's My Life. I wept when reading Philip Roth's American Pastoral. If he is Everyman, then when I read, I am everywoman, everyman, every citizen. I cried reading A Thousand Splendid Nights, I identified when reading Persepolis. I was offered a different sort of freedom while reading Happiness by Matthieu Ricard. I float when I read. I live in Paris and we read while waiting in line for the next metro, while waiting to buy bread. I am an african-american woman and I read to travel back and forth through time and places, some that I've dreamed and some that I've lived and some that I never imagined. I read Tony Morrison when I dream of becoming a writer and I want to visit excellence. I read because I am thirsty and because I am satisfied. I read because I am happy. I read because I am in love. I read because I love to read.
---
from Jules, 12, Paris
My sort of books that I read are like when children travel trough time because I love history and adventure. I am going to show you examples of books that I read and that I like :) :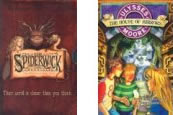 (from the Spiderwick chronicles and the Ulysses Moore series—the Editor)
---
from Laura, Paris
I used to read indiscriminately and without pause from a disorderly array of genres: dense 19th century British novels; post-war, pop-culture influenced American short stories and novellas; early 20th century Irish fiction and poetry; medieval dramatic and religious texts from England and France; cheesy science fiction from the 1950's and 1960's; books of all genres and periods by writers from the American South; contemporary 'experimental' poetry from across the globe; lovely French political and philosophical essays; ancient classics on the art of oratory, etc., etc.
I loved to read so much I think this is in all honesty what drove me to spend eight years in graduate school scraping by on poverty-level teaching wages. Saltine crackers and margarine for lunch again? Not such a bad trade-off for getting to spend all one's days reading books — and writing about them or talking about them when one wasn't reading.
Now, I read not one book a week, but often a dozen or two in one day. How? It's not hard when the complete text covering two pages is "Beep! Beep! Sheep in jeep on a hill's that's steep." My reading habits have changed dramatically as I'm now in the process of transferring my love of books to my 2 1/2 year old son and his one month old sister. This means I have zero time for grown-up books, but I find I don't mind so much. I not only love to watch my son struggling with the impossible task of selecting which title among his beloved collection he wants me to read next, but I find I'm enjoying the stories and pictures right along with him. Currently in his favorites line-up: Danny and the Dinosaur, Curious George, Mercer Meyer's little monster, anything by Robert McCloskey and all things Mimi.
---
The Red Wheelbarrow is located at 22, rue St Paul, 75004 Paris. Nearest metro station St Paul (Bastille and Sully-Morland are also close); buses 67, 96, 69, 76, and Balabus. Go here for a map.
Phone: 01 48 04 75 08, Fax: 01 44 59 60 23
Email: red.wheelbarrow@wanadoo.fr