The Red Wheelbarrow is the English-language bookstore in the Marais, in the heart of Paris.
" ...arguably the best selection of literature and 'serious reading' in Paris and a helpful, well-read staff."
- Lonely Planet Paris
" ...the friendliest English-language bookstore in Paris."
- Rick Steves' Paris 2005
Location 22, rue St Paul, 75004 Paris. Nearest metro station St Paul (Bastille and Sully-Morland are also close); buses 67, 96, 69, 76, and Balabus. View a map.
Hours 10am-6pm Monday, 10am-7pm Tuesday,-Saturday, 2pm-6pm Sunday
Phone 01 48 04 75 08 (outside France: 331 48 04 75 08)
Fax 01 44 59 60 23 (outside France: 331 44 59 60 23)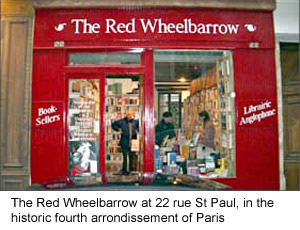 Red Wheelbarrow News
CAPES, Agrégation Interne et Externe English exams 2007-2008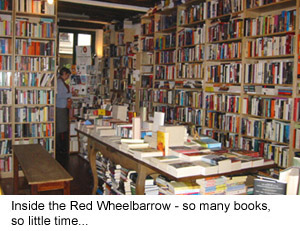 The Red Wheelbarrow is a general literary bookstore with a wide range of classic and contemporary literature from English-speaking writers and in English translation.



We stock books on current affairs, British history, and American history, as well as biographies, literary criticism and essays, poetry, drama, and thrillers.



Our comprehensive French-interest selection includes history, gastronomy, literature, and guidebooks.



We stock children's books for all ages, especially picture books, beginning readers, fiction, non-fiction, and parenting. We have a selection of titles about Paris for children, bilingual French-English books, and books to help kids learn French.



We carry a full range of academic titles for the CAPES and Agrégation (qualifying exams for French students and teachers of English), including linguistics titles. Order the texts for 2008 here.



We gladly special order any English-language books in print for customers in Paris or elsewhere (go here for details). We also offer Gift Certificates.

2008 RWB CREATIVE WRITING CONTEST



Teachers! Librairians! Students! Young Writers!

Details for the 6th Annual Red Wheelbarrow Creative Writing Contest are available now! The deadline for submissions is April 1, 2008.

View last year's results.
WHAT AND WHY DO YOU READ?
Passionate about books? Inspired by the question posed in the New York Times, RWB now asks its readers "What and Why Do You Read?" View our readers' responses, or submit your own.
FEATURED BOOK

One-Way Tickets
by RWB's own Renée Levine


Born in 1925 in Berlin of German-Jewish parents, the author recounts in this memoir the story of three generations who left home never to return. It is the story of a time when loss of family and the transplanting of lives was commonplace. Levine's own one-way tickets took her from Berlin to Munich to Breslau, the North Sea Coast, to London, Kent, Los Angeles, Boston and finally Paris. The description of these displacements is accompanied by photographs taken at the time. 17€.
NY Times Video on the Marais
Take a video tour of the Marais, a very special Parisian neighborhood and home to The Red Wheelbarrow Bookstore, with an appearance by RWB's own Penelope Le Masson.

The Shock Doctrine
by Naomi Klein
Under the shock doctrine, one takes advantage of a crisis or disaster (natural and increasingly man made) to impose otherwise unpalatable economic conditions on an unsuspecting populace through the haze that follows a catastrophic event... Read the review.

Coco on My Mind
Meg's review of three books about the fascinating "Mademoiselle," Coco Chanel... Read the review.

The Family That Couldn't Sleep
by D.T. Max
The book starts with a story of a Venetian family cursed over the generations by dying through the absence of sleep...[It is] a gripping book—and if truth be told, it is the scariest I've read... Read the review.

Dark Alchemy
Edited by Jack Dann & Gardner Dozois
Dark Alchemy is an impressive collection of fantastic tales from authors ranging from the venerable Orson Scott Card and Gene Wolf to the newly minted best sellers Eoin Colfer and Garth Nix... Read the review.


Night Train to Lisbon
by Pascal Mercier
A pedantic scholar of Classics suddenly has a slightly mad impulse to go to Lisbon in search of an enigmatic portuguese aristocrat whose book he had discovered in a second hand bookshop... Read the review.
The Red Necklace
by Sally Gardner
Once again Sally Gardner, storyteller supreme in voice and on paper, has written another book that will have you squirreling away time to read it... Read the review.

The Worst Thing I've Done
by Ursula Hegi
Annie, Mason and Jake live in a complicated web of relationships part erotic, part platonic, always in flux, always filled with excitement, passion, desire, envy and rage... Read the review.

Diary of a Bad Year
by J.M.Coetzee
JC is a seventy-two year old man, living in Australia, contributing chapters to a commissioned book of essays called Strong Opinions. Essentially all the opinions expressed deal with power, the meaning of power and of its immoral uses in our world...This will become a classic... Read the review.